This is such an interesting read! I have been enjoying this book immensely. The sections that we read were short but powerful!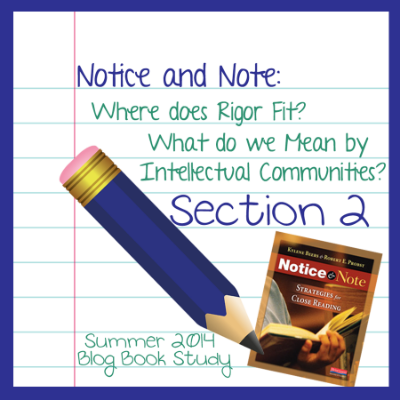 The host for this section is
2 Brainy Apples
! Their post is awesome! Please go check it out!!!!
This first question Where does Rigor Fit? is a question that has been a focal point in education. Rigor is an area that many have zeroed in on but unfortunately not all understand. There are many groups who say they are for rigor and are pushing for it to be a focal point but they need to understand what rigor is. Rigor is not worksheets. Rigor is not making the students read a complex text. Rigor is how we interact with the book not the complexity of the text. Rigor is meaningful enriching activites that create an exhilirating experience with the text for the students. Rigor is talking, discussing, and questioning that is higher order thinking! Rigor fits everywhere! Rigor should be eveywhere. Rigor is what makes the students learn and want to participate!
The next question is What do we Mean by Intellectual Communities? In a perfect world, every school would be an intellectual community. Unfortunately, we do not live in a perfect world and one can only hope! We can create this in our own classrooms and many educators do! An intellectual community is where all (admin, teachers, support staff) come together to create, explore, think and share ideas to help each other grow. This does not always happen in the school environment. Not everyone wants to work together. Collaboration and cooperation are the keys to an intellectual communiy. This is why it is more likely to have one in our classroom. We teach our students to share, help and explore in order to grow and to learn from one another!
Please visit these other awesome educators and read their posts on these two important questions!!!
"